Mailchimp: Segments vs Tags vs Groups
17 Feb 2020
What's the difference between Groups, Segments & Tags in Mailchimp? 
These are all ways of categorising the contacts in an audience. This categorisation enables you to keep track of your contacts and enables you to send targeted email campaigns.
This is probably the most common question we get asked on our Mailchimp course and for a good reason too, as they all are used to do essentially the same thing.
But there are differences in how Tags, Groups and Segments work and they can either be used individually or together to categorise your contact data.
What Are Groups in Mailchimp?
Groups are primarily for contacts to categorise themselves when using a sign-up form but can be used for internal only purposes as well.
You can create Group Categories within your Audience and within your Group Categories, you create group names. Group names are the options that a user would select when completing a sign-up form.
For example:
On a sign-up form, you might want to give a user the option of the types of emails they would like to receive from you, see below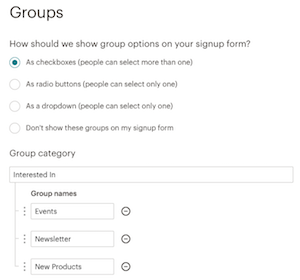 Interests –Group Category
Events – Group Name
Newsletter – Group Name
New Products – Group Name
The user can then select if they would like to receive emails about events, for example.
A contact can be in multiple groups. You can have multiple group categories per audience, but accounts are limited to the number of group names you can have. Free accounts are limited to 20 Group names.
Email campaigns can be sent directly to contact within specific group names.
What Are Tags in Mailchimp?
Tags allow you to add more information to your contact data that you wouldn't necessarily have in your merge columns. Tags are for internal use only i.e. users signing up to your mailing list won't be able to add tags themselves. 
You can effectively "highlight" contacts with extra information for you to keep track of your contacts or design targeted email campaigns based on tags.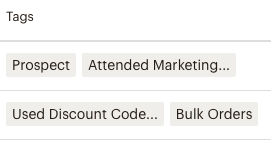 For example, you could use tags such as:
-Warm Lead
-Prospect
-Existing Customer
-Bulk order
-Used Discount Code
-Attended Event
-Budget Customer
-High-Value Customer
Contacts can have multiple tags and email campaigns can be sent directly to contacts with specific tags.
Tags can be added to contacts manually or through certain automations such as post-campaign actions or based on sign up method.
Campaigns can be sent directly contacts with a specific tag.
What Are Segments in Mailchimp?
Unlike Tags or Groups, you are not adding data to your audience, instead, you are using the data you already have in your audience to categorise your contacts. Think of segments more like a filter for your audience data.
Segments are used to tie everything together; your contact merge data, your Tags and Groups can all be used together within a segment.
A segment can be created from any of the information you have in your audience merge fields (this is the information you put in for a contact). This could be Job Title or City or Last Order Date. Any information you may have for each contact.
Using Mailchimp Subscriber Data in a segment, this is information that Mailchimp holds and automatically updates for each contact.
It could be opened a specific past campaign, or which contacts haven't opened any of the last 5 campaigns. Also things such as contact rating, Email Clients, Location (based on Mailchimp location detection) and many more.
Using Segments
With a segment, you can have up to 5 conditions (with Mailchimp Pro you can have 25) to create your "filter". 
These 5 conditions can be made up any combination of your Merge fields, Tags, Groups or Subscriber Data
For example, if you had the information, you could create a segment to find contacts:
with the Job Title Marketing Manager based in Manchester, who opened the last campaign sent – and that's using just 3 conditions
Once you name and save a segment it will be automatically updated as and when contacts are added or updated and match the conditions set in the segment.
So there you go, three ways you can categorise your audience to send targeted, tailored emails.
Looking for more Mailchimp hints & tips? Check out our article 7 Commonly Underused but Useful Mailchimp features for email.