7 Underused Mailchimp Features For Email
3 Jul 2020
Mailchimp has lots of great tools and features, although some are more hidden than others. Over the years of Mailchimp training, we've found that there are some common features that Mailchimp users miss or don't realise are there. Mailchimp is a big platform with lots of available tools ad features so it's easy to miss some. In this article we're just we're looking at email features. So here are
7 Underused Mailchimp Features for Email
Take a look and see if you're using any of these features:
1. Manage Replies by Conversations 
When enabled, if a recipient hits the reply button and sends an email back, that email will come into Mailchimp and is displayed in the conversations tab of the report, audience and also displayed in your contacts profile. 
You will be notified of the reply email (by an email from Mailchimp) and can then come into Mailchimp and reply to the message if required. This allows you to keep track of interactions with contacts all in one place.
BUT, the best part about this feature is that it filters Automated Replies, so you don't end with hundreds of Out Of Office replies. 
You can set it at the campaign level, in your Campaign Overview > Settings & Tracking > "Use conversations to manage replies" check the box 

If you just want to filter out the automatic replies but not the conversations feature you can set this in your Account. Go to Account > Details > Scroll to the very bottom of the page to "Manage Automatic Replies" and check the box.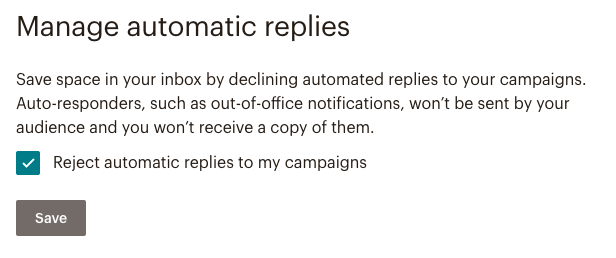 2. Default Merge Data
Utilising Merge tags are a great way to target your email content and make it more personal and relevant to the recipient, that is, when the merge data is present and correct.
If a merge tag is included in an email but there is no data to display then nothing will be displayed. But we can get around this by using default merge data, this is data we can enter that will be displayed if there is nothing else to display.
For example; we want to include a merge tag in our email to include the recipients first name. We could set the default merge data to display "friend" if there is no first name found for your recipient. 
To set this up in your Audience go to Settings> Audience Fields & Merge Tags
Enter your data in the last column on the right "Default merge tag values".

3. Design your Sign Up Forms
Every Audience you have in Mailchimp has its own set Sign Up form with its own URL, meaning that you can share this URL, on social media for example, and users can fill in their details and add themselves into the audience.
Of course, if you are planning on doing this then it's obvious that it will have to be designed to look good for users; but even if you're not planning on utilising these forms, it is still important to take the time to design it.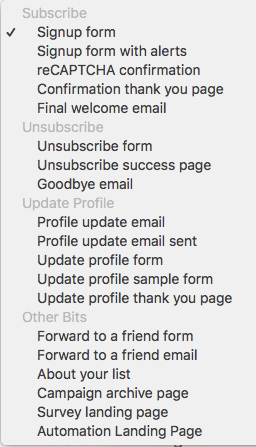 Why? Well within the Form Builder (Find it in your Audience under Sign up Forms > Form Builder) you also have many other pages and features available to design as well.
These are utility pages and forms that any of your recipients can potentially come across, for example, the Preferences Form (if they click the update preferences link that is dropped into emails by default) or the Unsubscribe form (if recipients click the unsubscribe link at the bottom of the email) as well as many others.
By default these forms and pages have a grey background and black text, so they still get the job done, but would look a lot better if they were designed to be in line with your brand or the email designs that you send.
The best thing is, any cosmetic changes (background colour, including a logo etc) you make on 1 page get copied across all the forms and pages.
You can also take some time to write custom messages on each form, like trying to convince that potential Unsubscriber not to hit that confirm button.
4. Turn Off Your Referral Badge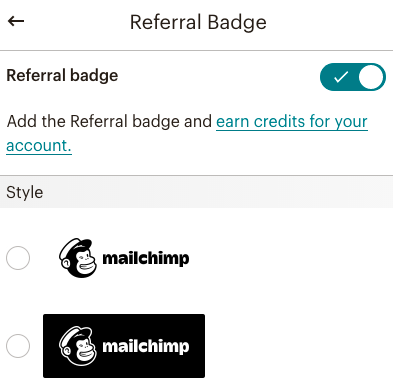 If you're on a free Mailchimp account then you have to have this Mailchimp badge at the bottom of you're email. If you are on any of the paid-for accounts you can remove this, to make your email appear more professional.
In your email template go to the Page Style Menu, navigate to the bottom of the menu and click on "Referral Badge". Within here you can then click the slide to stop it from appearing.
Note*: If you're on a paid account and you don't switch this off you will accrue account credits, these can be used against testing your templates using the Inbox feature.
5. Inbox Preview
This feature is hiding in plain sight. When you preview your template, at the top of the window you will see Desktop, Mobile and Inbox.
Inbox is an emulation tool (powered by Litmus) that allows you to choose from 40 different email clients and see an estimation of how your email might look on these.
 After sending a few campaigns out, you can have a look at your audience stats and discover the most common clients being used to open your emails, you can then use Inbox to ensure that your emails are looking great on that client, Outlook 2010 for desktop or the Gmail mobile app or Gmail webmail or 37 other clients.
The inbox preview is available with all paid accounts and can also be added on to a free account.
 On paid accounts, you get 25 credits a month, with each client costing 1 credit per test. So you want to test Outlook, Gmail & Thunderbird that's 3 credits. Make a change to the email and retest, that's another 3 credits.
 More credits can be bought in batches of 25 for (~$3).
6. Enable Social Cards 
In your campaign overview, Mailchimp highlights if you haven't enabled your Social Cards for your campaign.
But many people are unsure what the social cards are used for.
If one of your recipients chooses to share their email on social media, their post will just display the campaign URL, for example, https://mailchi.mp/mtraining/free-webinar-campaign
Setting up your social cards allows you to choose an image (either taken from the email or one from your content manager), a custom title and a custom description that will be displayed as a rich post along with the URL. 
Enabling Social Cards can be done from with the Campaign Template builder go to > Preview > Social Cards 5.
7. Share Templates by URL
If you work on multiple Mailchimp accounts it's really easy to share Templates across them.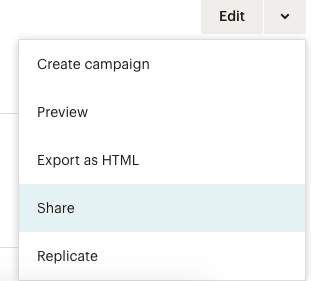 On the Templates dashboard, on the Template you want to share find the "Edit" button on the right-hand side of the screen, click the down arrow to open the sub-menu and find "Share".
This will open the share screen when you can share by URL or by email (the URL will be emailed to the address you enter).
Select URL and copy the URL displayed, you can then log out of this account and log into your other Mailchimp account, in another browser tab paste in the URL and press enter. This will automatically add the template to the account you're logged into. 
Easy.
So there are 7 underused or missed features of Mailchimp. Mailchimp is full of features for all the different aspects of the platform, today we've just focussed on email, so there are plenty more to be uncovered.
Want to know how you can get more out of Mailchimp? Take a look at our 1 day Mailchimp course.