Training in Liverpool
Looking for training in Liverpool? MTraining runs a range of courses in the city centre, less than 5 minutes walk from Liverpool Lime Street Station at the Marriott Hotel.
HOW TO FIND US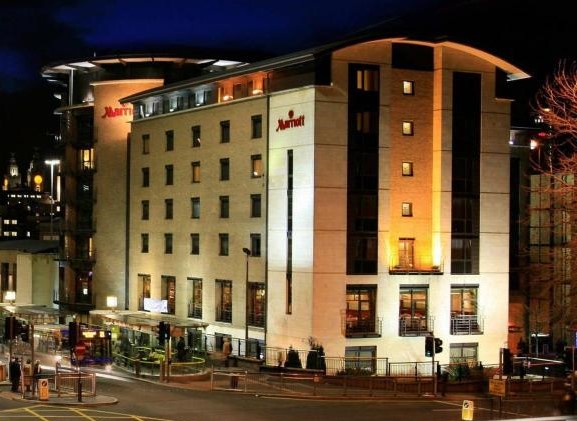 Almost all of our Liverpool courses are delivered at Liverpool Marriott Hotel City Centre, One Queen Square, Liverpool L1 1RH. 
Occasionally we run courses are run at The Plaza, 100 Old Hall Street, Liverpool, L3 9QJ
Parking - 
There is parking adjacent to the hotel at Q-Park (537 spaces), which is accessed via Queen Square.
A day's parking for hotel visitors costs £5.00 - just get your ticket validated at the hotel reception to get the hotel rate, otherwise, you will be charged more.
If the course is at the Plaza, there is the Pall Mall car park which is just a two minute walk.  Again you can get your ticket validated at the end of the day for half price parking (£9 at the time of publication).
PUBLIC TRANSPORT
By Bus -
Queen Square Bus Station is right next to the hotel and is the destination for many buses from across the Merseyside region.
More information and a journey planner can be found on the MerseyTravel website.
By Train - 
The nearest train station is Liverpool Lime Street, which is roughly a 3 minute (0.2 mile) walk from the hotel.
TRAINING COURSES IN LIVERPOOL
MTraining has an extensive range of public courses running in Liverpool; see below:
We also offer private courses throughout Merseyside and the North West.
Public Training courses
These include SEO, Google Ads, Analytics, Website Optimisation, Email Marketing, Social Media & Mailchimp courses.
These include Marketing Communications, Internal Comms, and Photoshop courses.
These include Sales training, Presentation Skills, Communication Skills, Time Management courses.
These include both a one day Leadership course, a two day Leadership course, and Assertiveness training.
These include Excel Courses and PowerPoint Courses and we also offer private courses in Outlook, SharePoint, Power BI etc
If you don't see the course you're interested in above, please let us know as we may offer it at other locations or as a private course.
EAT & DRINK
Lovelocks
We provide lunch for anyone attending our courses, but if you have some time before or after your course why not visit one of the many nearby cafes. Here are some of our faves:
Lovelocks Coffee Shop - Healthy and fresh food, including veggie/vegan/gluten-free options as well as the essential coffee and cake options. A 3 minute walk from the Marriott in the Old Haymarket. This is where we usually go for lunch.
Key Lime Coffee - Serves coffee, shakes and some serious cakes, plus a range of breakfasts and an all-day brunch. Opposite Liverpool Lime Street Station in St John's Shopping centre.
St George's Hall Cafe - Set in the imposing neoclassical St George's Hall (opposite Liverpool Lime Street Station) you can take in the views while enjoying a coffee and a bite to eat. 
The Brew Bar Lounge - The Marriott's in-house cafe, a great spot to catch up on emails or relax after your course.
WHERE TO STAY 
Need to sleep over as part of your visit? Get some rest at one of these local hotels;
Liverpool Marriott Hotel City Centre - You can't get much closer to our Liverpool courses than this, and with its proximity to Liverpool Lime Street Station, it's near to travel links too. 
Holiday Inn Liverpool City Centre - Across the road from Liverpool Lime Street Station, this budget hotel is perfect if you need to snooze and dash.
The Shankly Hotel - Named after Liverpool United Football Club manager Bill Shankly, this hotel is just around the corner from the Marriott Hotel.
The Sir Thomas - This converted bank with 39 rooms is less than 5 minutes from the training venue and has an in-house brasserie and bar.