What is a SWOT analysis and Why is it Useful?
26 Oct 2021
A SWOT analysis is a great and easy tool for businesses to use in many different scenarios, whether it's auditing your social media accounts, planning the business growth strategy or measuring the effectiveness of your product.
But if not completed or used correctly it can just be a waste of time. In this article, we are going to look at the questions you should be asking when putting your SWOT analysis together.
What is a SWOT Analysis?
SWOT analysis is a tool that can be used to help a person or organisation with their strategic planning.
The tool can help you understand your or your organisation's current situation. Understanding where you are now can help you plan how to get to where you want to go.
SWOT stands for Strengths, Weaknesses, Opportunities and Threats.
Why is a SWOT Analysis Useful?
On the surface, it can seem like a tool that would be too simple to be very useful, but in actuality, it helps you focus on the most relevant factors for planning.
The SWOT analysis is sometimes called the 'Internal/External Analysis', because when you're conducting a SWOT analysis you will find that the Strengths and Weaknesses are often internal factors you can control, whereas Opportunities and Threats are commonly external factors you can influence rather than directly control.
SWOT analyses can be used to assess how a business is aligned with its goals and strategy, but it can also be used for particular projects and even for individuals.
In this article, we are focussing on SWOT analyses for businesses and projects. Keep reading for examples of questions you can ask yourself to help generate ideas.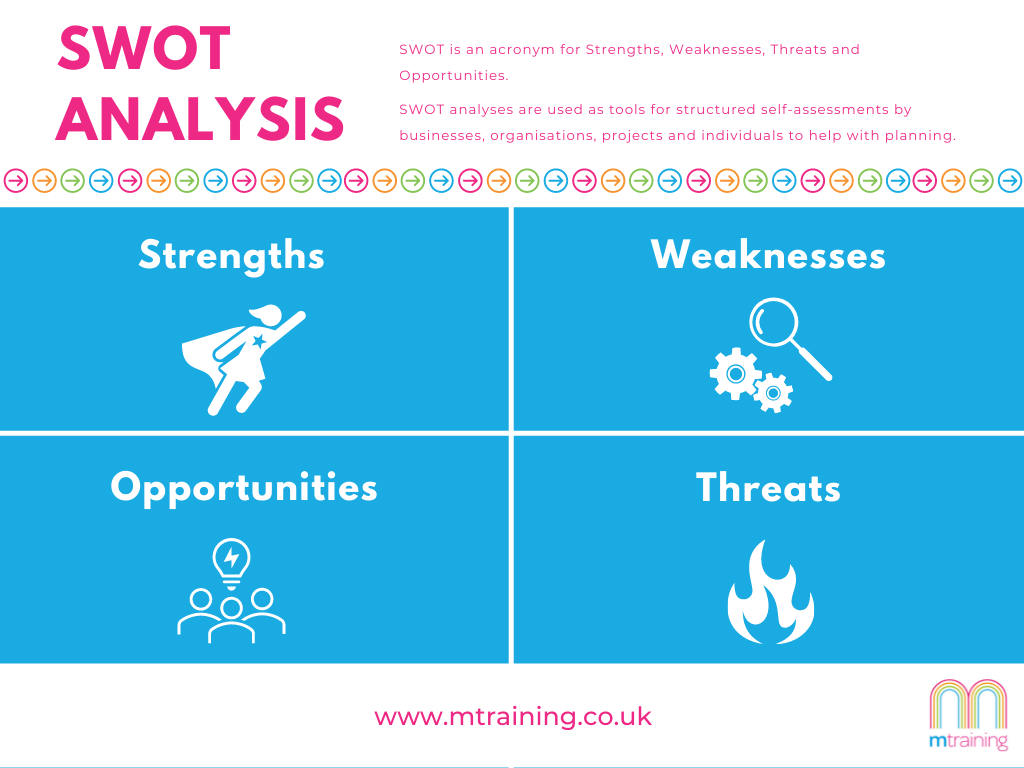 How to complete a SWOT Analysis for Business
Whether you're completing the SWOT analysis on your own or as part of a group, make sure that you are clear on what you're trying to assess i.e. your company as a whole, your range of products, or your skills as an employee.
If you're completing a SWOT analysis on your own then download our free editable PDF SWOT analysis template, or just grab a piece of paper and divide it into 4 sections, each with one of the SWOT headings.
If you're completing a SWOT analysis as a group then it can be useful to make a big version, either on a flipchart or the wall.
A SWOT analysis shouldn't be rushed; really think about what would fit under each heading and what ideas you might have not thought about before.
Top tips for conducting your SWOT analysis for a business:
- Facts & Figures: If you have any analytics available on the topics you're discussing then it can be really useful to combine them with people's opinions. This will give you a better understanding of the current situation.
- Diversity: It is often really useful, especially when a SWOT analysis is being used as a starting point for building a new business strategy, to gather a group from a range of different departments and levels within the company to brainstorm together. It can be tempting to just ask managers from each department, but sometimes an assistant or apprentice will have different perspectives or insights that managers might not have.
- Collecting Ideas: When in a group it can be useful to give everybody some post its/sticky notes. Give everyone some time to write down some ideas and then ask them to put them up on the wall or flipchart. Each person can explain their sticky note if it's not immediately obvious. You will also be able to group ideas together and see if there are any common threads.
- Be Relaxed: Although it can be useful to go through the boxes systematically, allowing some freedom to jump around can spark new ideas.
- Categories: It is normally pretty clear which box an idea should fit into but if you're not sure, then try asking yourself whether it is an internal or external factor. If it is an internal factor, then it will more than likely be a 'Strength' or 'Weakness'. If it is an external factor, then it will probably be an 'Opportunity' or 'Threat'. 
.
Questions to ask when doing your SWOT Analysis
Strengths 
Are internal (controllable), positive traits either about the company or yourself.

Here are some examples of SWOT analysis questions you might ask to find a company's strengths:
- What business processes are successful?
- What assets do you have in your teams? (ie. knowledge, education, network, skills, and reputation)
- What physical assets do you have, such as customers, equipment, technology, cash, and patents?
- What competitive advantages do you have over your competition?
- What do your customers see as your strengths?
Weaknesses
Weaknesses are also internal, but they are negative factors that detract from either your company or your overall improvement (if conducting a personal SWOT analysis)

Weaknesses can be tricky because they are internally focused and negative, but it's important to acknowledge them so that you can try to improve them.
Weaknesses are one of the reasons it can be really useful to have a facilitator or someone leading the meeting. They can help keep the ideas flowing and make sure it doesn't become too focused on one person.
Here are some examples of SWOT analysis questions you might ask to find a company's weaknesses:
- What does your business struggle with?
- What internal factors lose you sales and opportunities?
- What do your customers see as your weaknesses?
- What does your competition do better than you?
- Do we have staffing in the right places?
- Are there any financial difficulties?
- Are there gaps in required training and/or knowledge?
- Are there any areas of the company that receive regular complaints?
Opportunities
Opportunities are external, positive factors that you may be able to take advantage of to improve your organisation.

Here are some examples of SWOT analysis questions you might ask to find a company's opportunities:
- Are there any new markets you could adapt and sell your skills or technology to? A great example of this is gin distilleries producing hand sanitiser when there was a shortage.
- Are there any ideas for opportunities that you could get from your Strengths and weaknesses?
- Is there any training that could help you improve?
- Are there any ways you can improve your business with new systems or technology?
- Are there ways you can cut costs without affecting the business?
- Is there anything that your customers regularly ask about that you don't currently offer but could?
- Are there any gaps that your competitors are leaving that you could fill?
- Are there any marketing or self-promotion opportunities that you don't currently take advantage of but could?
Threats
Threats are external, negative factors that might make your organisation vulnerable. They are not factors you can directly control, however, you can put solutions in place to decrease the risks involved.

Writing down threats can often help you put them in perspective.
Here are some examples of SWOT analysis questions you might ask to find a company's threats:
- Are we at risk of losing our talent?
- Will our business be negatively affected by technology?
- Are we reliant on suppliers?
- Are we cyber secure?
- How will be affected if there is a natural disaster or another pandemic?
- Are any of the competitors starting to gain a bigger market share?
How to use your SWOT Analysis
Once you have finished your SWOT analysis it is important that you are able to then use it, otherwise, you have wasted time gathering all that important information.
You will have four lists that will give you a good overall idea of the question you were asking, whether it's about your company as a whole, a project or a product.
You can use this picture to create a strategy to move forward.
A good way to do this is to prioritise your lists. It is also often good to keep your strategic objectives in mind whilst doing this.
Strengths: Think about which of these you need to continue to improve. Are there any strengths that we need to fortify?
Weaknesses: Are there any that can be weaknesses that can be fixed immediately or need to be fixed immediately? Which weaknesses are really important that you fix as soon as possible?
Opportunities: Which opportunities on your list are of higher value to you? Are there any quick wins? Are there any opportunities that your strengths lend well to?
Threats: As these are external factors they are likely to be a bit harder to prioritise, but it's important to pay attention to them and have plans in place to help mitigate the effects.
You may wish to review these plans every 3-6 months to make sure they are up to date.
What will you use your SWOT analysis for?
If you would like more help planning, then our 1 day Project Management course can give you the basics to help you make the most of opportunities and minimise risks.