COVID-19 Update: 4th March 2021
We recognise that these are unsettling times and we want to help you to get the training you need in the safest way possible without compromising on the quality of the training.
There are no changes to our online courses, which will run as scheduled.
We are taking bookings for classroom courses that are scheduled from 29th March onwards.
Classroom Course Covid Measures
Everyone here has worked hard to ensure we make your next visit safe, whilst maintaining the warm welcome and relaxed setting experience that our customers are used to.  
We are lucky to have spacious training rooms that allow us to comply with social distancing guidelines and we have put into place a range of new safety measures, including:
Adjustments to the training room layout to allow for a minimum of 1.5m social distancing (see photos below)
Reduction of class sizes to 4 to reduce the number of delegates in any room
Clear screens between delegates (See photos below)
Enhanced procedures and training for our staff regarding hygiene and the new safety procedures that are in place
Temperature checks for guests and trainers upon arrival
Hand washing /sanitising stations provided at all entrances for guests and staff
Enhanced and regular cleaning regimes covering all communal areas and training rooms
Snacks, sandwiches and other lunches we provide are individually wrapped.  Delegates can bring their own if they prefer
Personal protective equipment is available for all delegates and staff who chose to wear them, including gloves and masks 
Delegates will be encouraged to bring their own pens and laptops. Where we provide pens and laptops they will be sanitised at the start of each course.
Where printed manuals are used the covers of delegate manuals will be sanitised and the manuals will be left on the delegate's table.
Sanitising wipes and liquid sanitiser will be on each table for delegates and the trainer to use.
Any further guidance from Public Health England will be followed closely and we will continually update you on any new policies and procedures as a result of this. 
If you are attending a course we request that you follow these guidelines
Keep to the social distancing rules (min. 1.5m distance)
Use the hand sanitiser on your desk when you arrive and every time your return to your desk
Wear a mask in communal areas and when moving around the training room (Masks can be provided)
Let the trainer know as soon as you feel unwell - you will be able to attend the course free of charge on another day

Cancellations
To offer increased flexibility, we have reduced cancellation terms to 24 hours for courses booked in March 2021. (See below for more details)

May I also take this opportunity to thank you for your continued support over recent months.
Martin Woodfield
Managing Director, M Training & Consultancy Ltd

Online Virtual Classroom Courses
Nearly all our courses are also available as online 'Virtual Classroom' based courses. These are continuing to run as scheduled.
All our online courses have 5 Star Ratings from delegates because we have very small size classes and because you can interact in a very similar way to the face to face training.
Our public Virtual Classroom courses are limited to 6 delegates to ensure everyone can ask questions, share screens, and receive a lot of personal support during the course.
Private online courses are available for larger groups or for one-to-one training.
Find out more about our Virtual Classroom courses here
Cancellations / Refunds
Given the impact of COVID-19, we have adapted our cancellation policy to provide our customers with the most flexible cancellation terms we can offer during these challenging times.   
For anyone making new bookings of classroom-based training in March 2021, we will allow those bookings to be changed to another date up to 24 hours before the course with no charge. If you cancel with less than 24 hours notice we reserve the right to charge you 50% of the fees to cover some of our costs. With evidence of a positive test you can cancel at any time with no cost to you.
We reserve the right to cancel any course with no notice period if government guidance requires us to do so; or if we believe that there is a higher risk to our staff or delegates.  Any delegates booked onto a course that we have had to cancel will be offered alternative dates.  If none of these dates are suitable you will be entitled to a full refund.  We cannot be responsible for any consequential loss, such as travel or accommodation costs, due to cancellation by M Training.
Our Manchester Training Centre
Here are a couple of pictures of our revamped training rooms to allow for social distancing.
Unit 40 - This room is pretty large and allows for 4 delegates plus a trainer. 
This new layout allows everyone to be at least 1.5m+ apart.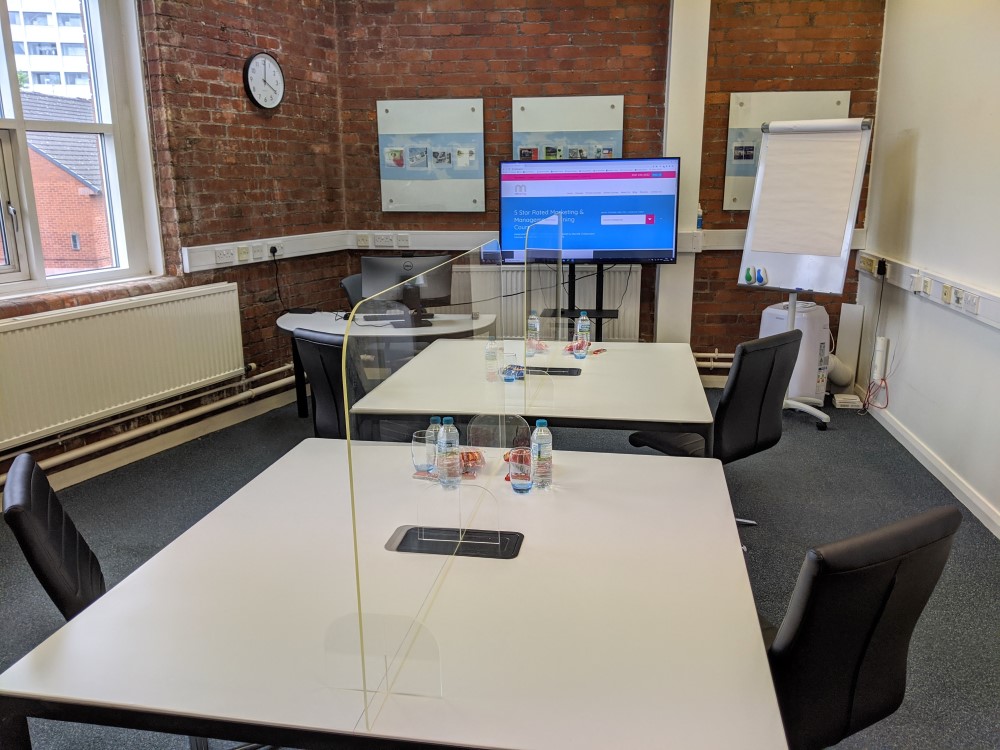 Unit 46 is quite spacious but it is a smaller room. 
It will be used for courses for up to three delegates and a trainer with a comfortable 1.5m+ social distance.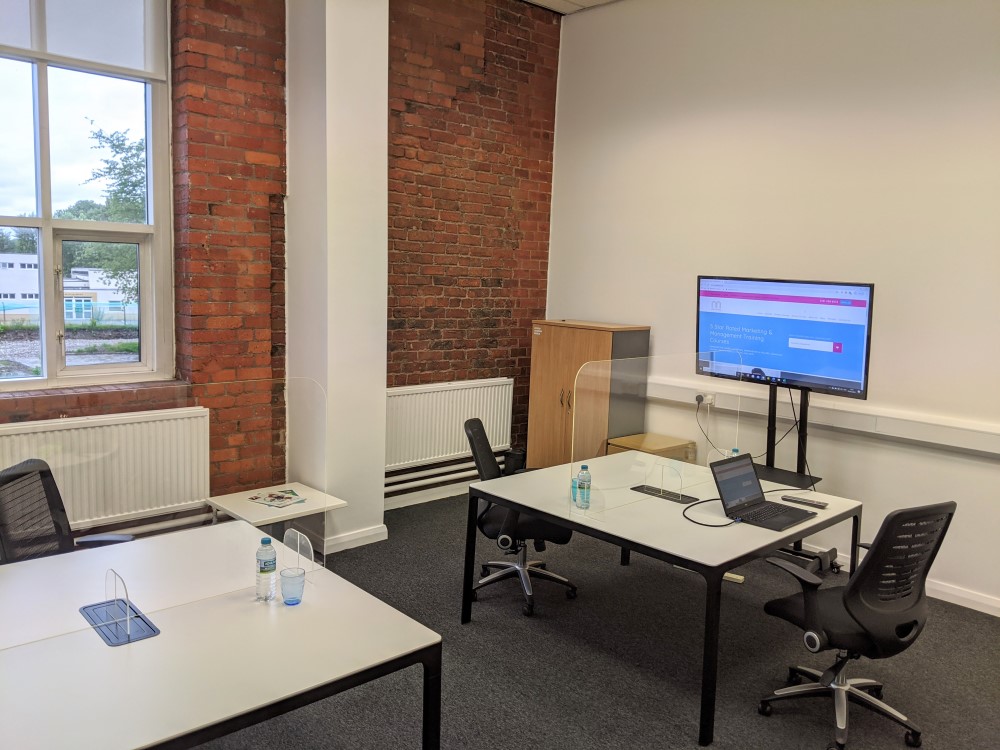 For Birmingham, Leeds, and Liverpool we use hotel/conference centre rooms which all provide for social distancing and have strict Covid 19 protective procedures in place.
Questions
If you have any questions regarding our courses, procedures for dealing with Covid-19, and /or our cancellation terms please contact us at info@mtraining.co.uk or call 0161 226 6932