New Google Search Console Rolls Out
31 Jan 2018
Up until now Google Search Console Beta has only been available to select users but as of this week it is going to be rolled out to everyone.
The new Search Console has not only had a complete redesign but has been rebuilt from the ground up.
It is now similar in design to the not so new Google AdWords (which is still in Beta) with the grey border replaced with a darker grey and the menus, buttons and data displayed much bigger and bolder than previously.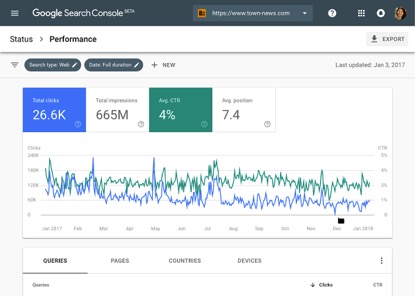 New Features
Google have promised a number of new features that have been "asked for" by webmasters, the biggest update seems to be the inclusion of 16 months worth of Search Performance (Search Analytics as it is currently known) data, allowing yeah on year comparisons.
Currently in Search Console Beta you have access to three main areas:
Search Performance - in this report you have access to all the same features as you do currently Search Analytics, traffic, rank, impressions etc.
Index Coverage – this report allows you to see your indexed pages and any errors that have been discovered by the search engine will be display here. It also gives you the ability to share these reports with people, so this maybe handy if you are trying to explain the problem with another team.
Search Enhancements – Currently this area only looks like it will display information about your schema mark up and AMP pages.
The New Search Console is still in Beta so not all the reports have been migrated across as of yet from the current Search Console, but as time goes on I'm sure all the features you know and love will be moved across.
Until that point though both the current version and Beta will run by side with a handy "Go to the old version" button available in the Beta version.
Now this is rolling out as of this week so you may not have be able to see the new view, but keep an eye out for a message similar to this in Search Console to get your first look: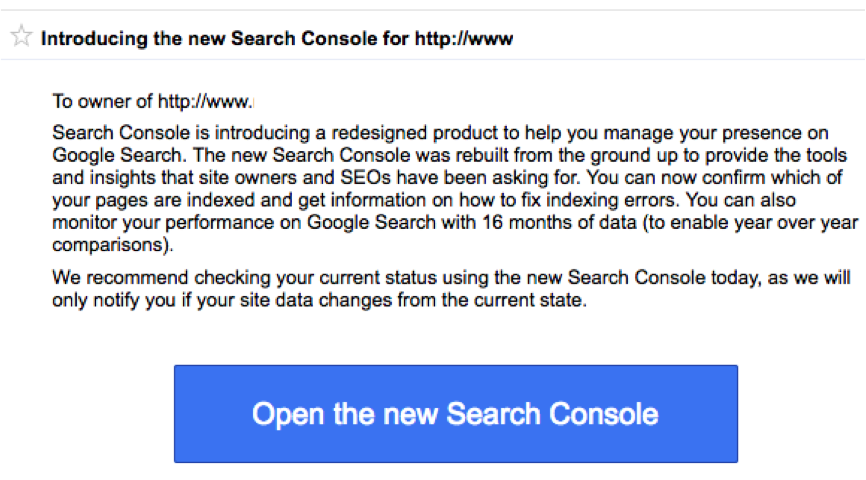 It will be interesting to see how the expanded data can give deeper insights and also if any new tools or features are brought in.
Check back for updates.