Chrome Highlighting Non Secure Sites. What Does This Mean?
15 Feb 2018
Google have recently announced that as of July 2018 all websites that are not using the HTTPS protocol will be marked as Not Secure within their Chrome Browser. But what does this mean?
First Off, What is HTTPS? 
HTTPS stands for Hyper Text Transfer Protocol Secure and, when implemented on your server, it allows data that is sent between your website and server to be encrypted, meaning that it can't be intercepted by third parties during transfer (or it can be but they won't be able to read the data) or in other words "securely". 
Up To Now 
For the past couple of years Google has really been pushing sites to switch to HTTPS even hinting that secure sites will get a little boost in organic search rankings over non-HTTP sites.
Currently, in the Chrome Browser, a page is highlighted as not secure if it is HTTP but contains a way for users to enter information, such as an email collection form.
But come July this year, any website that is not on HTTPS will be marked as Not Secure whether a form exists on the page or not.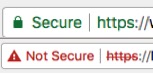 OK, But what does this actually mean?
Well apart from missing out on a slight boost towards your rankings, if you do not have a HTTPS site, Chrome will display the Not Secure logo before your URL (see image above) of every page on your site. 
This big red flag to users maybe enough to put them off entering any personal information on your site or even staying on your at all. 
With cyber & data security a bigger concern than ever and more people becoming aware (Barclays had a TV ad over Christmas urging people to look for the secure logo) this may impact your Conversion rate, traffic, rankings and your trust with your customers even.
But it's just in Chrome? 
Well, according to Statcounter, in the UK in 2017 Google Chrome held a market share of 46% (you can check your own Browser share in your Google Analytics) that's potentially a lot of traffic that will be seeing the Not Secure flag next to your domain name.

Image taken from & Stats can be found at: http://gs.statcounter.com/browser-market-share/all/united-kingdom
And before long other browsers will be following suit. Already Safari and Firefox display a lock symbol for secure sites and so it only makes sense for them to make the move to highlighting sites that are not secure as well.
What Should You Do?
If your site is not currently HTTPS then it is definitely worth considering making the switch now.
With fight against site hacking and data breaches increasing it is definitely better to be at the forefront than playing catch up in terms of your website security, your customers trust and your website rankings.
Want more information about switching to HTTPS? Get in touch with us at info@mtraining.co.uk to find out how we can help you through the switching process.